Mae'r wefan a gronfa data yn fyw, mi gewch chi gweld y wefan peint-o-hanes.cymru yma.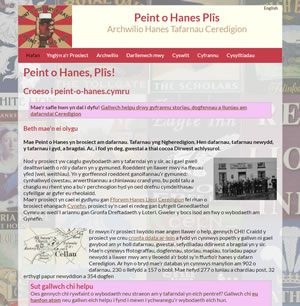 Lluniau o'r sesiynau tafarn blaenorol!
Nos Fercher 6 Mai 2015, 6yh-10yh
"Peint o Hanes, Plîs!" yng Ngwesty'r Porth, Llandysul.
Gwesty'r Porth | Porth Hotel
A Pint of History, Please! at the Porth Hotel, Llandysul on Wednesday 6th May 2015.
Dydd Sul 12 Ebrill 2015, 12-5yp
"Peint o Hanes, Plîs!" yn y
Half Moon, Pont-Tyweli
.